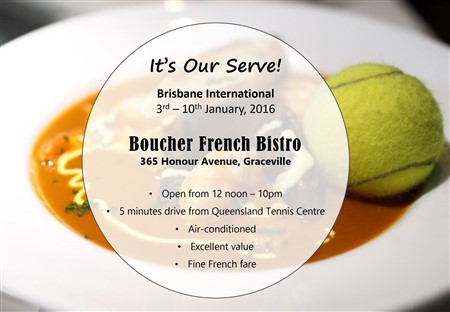 The Brisbane International is one of the most exciting events on Boucher's yearly planner. This coming year sees seven Grand Slam tennis champs take to the courts at the Queensland Tennis Centre, Tennyson.
Boucher is so close we're almost on the baseline, and this year we're hoping to hear a bit of John McEnroe angst when he takes on another favourite legend, Pat Cash. Yes folks, they'll both be in town, along with our heroes, Roger Federer, Maria Sharapova, Victoria Azarenka and Queensland's very own court superstars – Sam Stosur and Bernard Tomic.
We know that tennis enthusiasts love bagels, bisque and breadsticks, which of course, is right up our alley. But as number one seed we also know we can serve up better than that! Our Chef, Peter Carter, has thrown the ball high and is ready to deliver a special Brisbane International Menu for our VIP players, their support teams, families and of course, all of the avid tennis fans.
If you're one of those lucky tennis fans, be sure to escape the heat and the crowds in between matches. Open for lunch from 12 noon and right through to closing after dinner, Boucher invites you to relax in air-conditioned comfort and enjoy some of the finest French food that Brisbane has to offer!
View our Brisbane International Flyer & Menu here.
Phone the Boucher team on (07) 3716 0388
If you received our Email Newsletter, make sure you quote the secret code to receive your $20 Gift Voucher. Please note that there is a minimum spend of $200 to use the voucher and this promotion is valid from 3rd – 10th January, 2016.
Get directions from Queensland Tennis Centre: