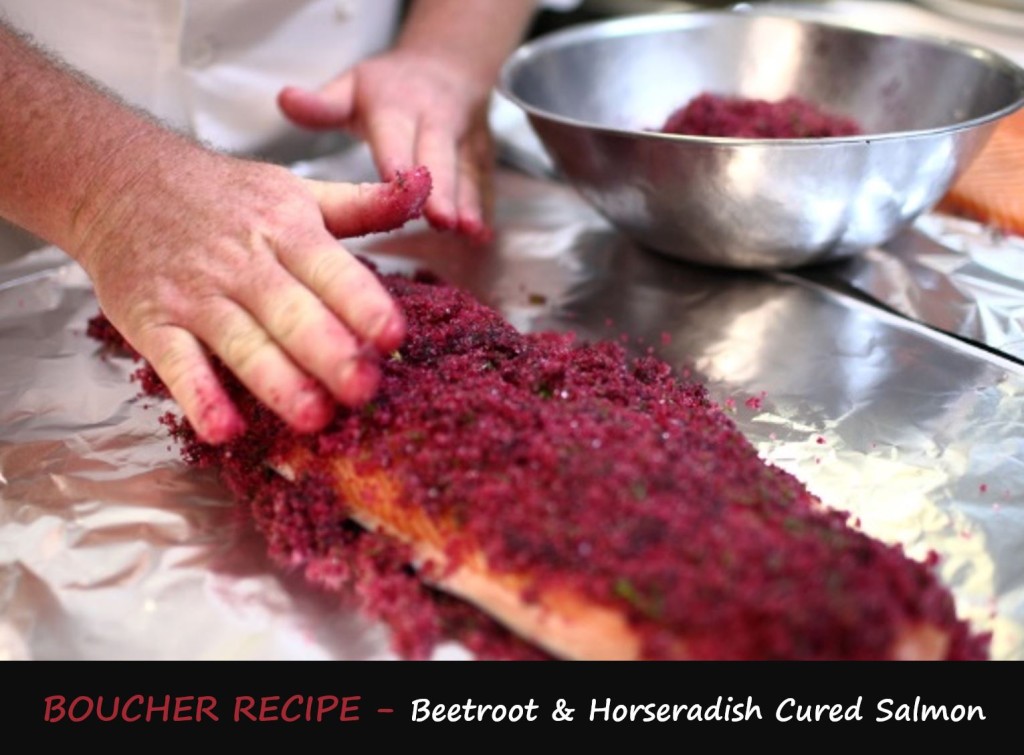 This cured salmon dish is perfect for hot Summer days and steamy nights.
Ingredients
1 x side of fresh salmon (scaled and pin bones removed) – your fish monger will do this for you
1 x stick of horseradish (grated)
1 x beetroot (raw, grated, minimum 200g)
250g salt flake crystals
250g raw sugar
¼ bunch of picked dill
1 x lemon
Method
1. Mix the horseradish, beetroot, salt, sugar and dill in a bowl.
2. Place a double layer of foil on bench, ensuring it is 6 inches longer than the salmon at both ends.
3. Lightly sprinkle the horseradish/salt mix onto areas of the foil which will make contact with the salmon.
4. Place the salmon onto the foil.
5. Spread the rest of horseradish/salt mix over the top, ensuring the thickest parts of the salmon fillet receives a thicker layering of the mixture.
6. Fold the ends of the foil over the salmon and then fold the sides.
7. Place in a baking dish in the fridge for 48 hours with a light weight over the fillet (for example, a bottle of water).
8. Drain off liquid every 12 hours.
9. After 48 hours, scrape off remaining marinade and thinly slice to serve.
Bon Appetit!